Vocational education and training
The education system in the Republic of Croatia consists of:
pre-school education
primary (including lower secondary) education
(upper) secondary education
higher education.
High schools (secondary education), depending on the type of curriculum they implement, are:
Grammar schools (general or specialized) lasting for four years.
Vocational schools, lasting from one to usually three or four years, exceptionally five, upon the completion of which the students acquire a qualification of a certain level, scope, profile and quality which is proven by a public document whose content and form are prescribed by the ministry responsible for education.
Art schools (music, dance, art and other, determined by the type of curriculum) lasting a minimum of 4 years.
The existing system of vocational education covers 66.9% of the total secondary school population, i.e. 96,018 students in 300 schools.
The system of regular vocational education for acquiring low and intermediate level qualifications, according to educational programs, consists of:
one-year and two-year programs of lower education in 8 educational programs. The number of students attending these programs is 159, which is 0.17% of the total number of vocational education students, or 0.1 % of the total secondary school population.
three-year programs for occupations in industry and crafts in 139 educational programs. They are attended by 26,995 students, which is 28.1% of the total number of vocational education students, or 18.8% of the total secondary school population.
four-year technical programs and similar orientations in 83 educational programs. They are attended by 63,442 students, which is 66.1% of the total number of vocational education students, or 44.1% of the total secondary school population.*
Scheme of the education system in the Republic of Croatia: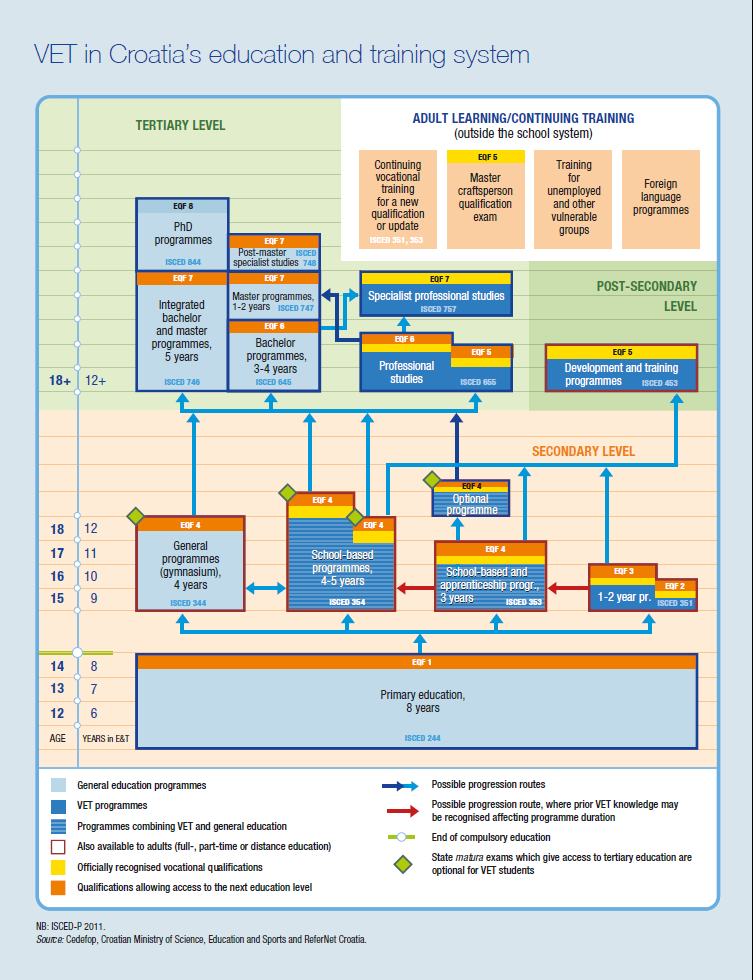 *Source: Ministry of Science and Education, www.mzo.hr