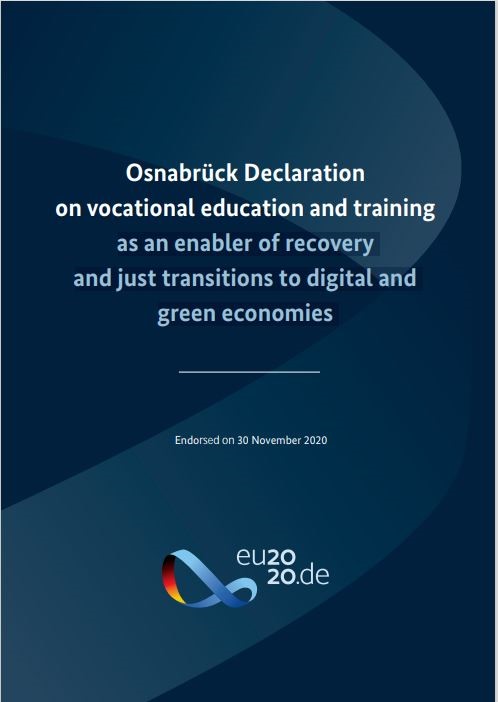 On 30 November 2020, the Ministers in charge of vocational education and training (VET) of the Member States, the EU Candidate Countries and the EEA-EFTA countries endorsed the Osnabrück 2020 Declaration on vocational education and training as an enabler of recovery and just transitions to digital and green economies.
The Declaration represents a new set of policy actions in VET for the period of 2021 – 2025, stemming from the Council Recommendation on vocational education and training for sustainable competitiveness, social fairness and resilience.
There are four main objectives of The Declaration:
Resilience and excellence through quality, inclusive and flexible VET
By emphasising the importance of quality and inclusiveness of VET, the implementation of the first objective of the European Pillar of Social Rights will be facilitated – according to the objective, each person has the right to quality and inclusive education, training and lifelong learning, in order to gain new skills which would enable them to have a fulfilling social life and successfully switch jobs.
Establishing a new lifelong learning culture – relevance of CVET and digitalisation
The Declaration emphasises the importance of VET teachers and their continuous professional development. Therefore, it is vital to ensure better cooperation between VET schools and companies, not only to provide quality work-based learning for students, but also to support professional development of VET teachers and mentors in companies.
Sustainability – a green link in VET
The Declaration highlights the link between digitalisation and sustainability, stressing that both initial and continuing vocational education and training (CVET) should incorporate sustainability skills in their curricula.
European Education and Training Area and international dimension of VET
The last objective promotes the importance of including stakeholders in reforming VET and the significance of such cooperation for accomplishing the aforementioned objectives.
You can find the complete Declaration here.