Improvet: Improving Skills in Vocational Education and Training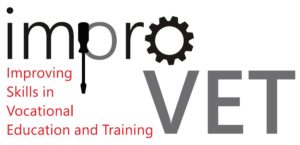 The project Improving Skills in Vocational Education and Training (ImproVET) is co-financed by the Erasmus + programme as Key Activity KA3 – Support to Policy Reforms. The project holder is the Croatian Chamber of Commerce, and the partners are the Agency for Education and Training and Adult Education, Ivo Pilar Institute of Social Sciences, Faust Vrančić School of Mechanical Engineering, Chamber of Commerce of Slovenia – Center for Business Education, Center of the Republic of Slovenia for Vocational Education and School Center Slovenske Konjice – Zreče. The value of the project is a total of EUR 448.172,00, 80 %of which  is co-financed from the Erasmus + programme and 20 % from national funds. The project implementation period lasts from November 1, 2018 to October 31, 2020.
The overall objective of the project is to increase the employability of young people and to contribute to the development of a highly qualified and mobile workforce, to support the joint development of vocational education and training (VET) in Europe and to strengthen its quality, relevance and attractiveness. The specific objectives of the project are: to develop a new qualification in the system of vocational education and training, to establish a new structure for cooperation in VET, to strengthen international cooperation in education and work, to develop a common international curriculum that includes opportunities for mobility and work-based learning in VET programs and support VET modernisation in both Slovenia and Croatia.The project will develop a new joint qualification for a mechanical technician based on a previous analysis of qualifications frameworks in Croatia and Slovenia for the that sector, research of employers' and labour market needs and development of occupational standards, guidelines for developing a common qualification and qualification profile and developing a common curriculum for mechanical engineering technicians that will include work-based learning and mobility opportunities with appropriate evaluation standards.
The target groups of the project are students in vocational education and employers. The new qualification will enable the development of key competences and vocational skills in accordance with the needs of employers and the labour market, provide opportunities for mobility and work-based learning, and ensure mutual recognition of qualifications in both Croatia and Slovenia. The development of vocational skills in line with the needs of the labour market will ultimately increase the employability of vocational school students after entering the labour market and reduce the disparity between the needs of the labour market and the qualifications of future workers.
Website of the project: https://improvet.hgk.hr/news