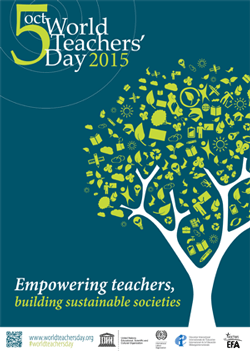 "Better than a thousand days of diligent study is one day with a great teacher."
– Japanese proverb
World Teachers' Day is commemorated on 5th of October since 1994, as a day which celebrates teachers and professors across the world. Its goal is to develop support for teachers, recognise their social value and ensure the realisation of educational needs for the future generations.
"Empowering teachers, building sustainable societies" is the World Teachers' Day slogan for 2015, designed by UNESCO, which is among the main sponsors and promotors of this important day in the world. UNESCO indicates that World Teachers' Day is an important symbol of the awareness, understanding and appreciation needed for the key contribution that teachers give to education and development of mankind.
Education is the 4th of 17 pillars of the new UN Agenda for Sustainable Development, right after no poverty, zero hunger and good health and well-being goals. The Agenda calls for inclusive and equitable quality education and the promotion of lifelong learning opportunities for all. Global organisations point out that "realising this goal is critical to achieving all our global development targets, for strong societies depend on well-educated citizens and a well-trained workforce".
The UNESCO Institute for Statistics estimates that countries will need to recruit 12.5 million primary teachers to achieve the goal of universal primary education by 2020. Moreover, 4 million new secondary teacher positions also need to be created to achieve the same goal for secondary education by 2020.
Agency for Vocational Education and Training and Adult Education joins in in the celebration of this important day on national and global level, and therefore wishes to congratulate World Teachers' Day 2015 to all teachers and educational staff!
More information available on the following links:
http://www.worldteachersday.org/map/index.php/main
http://www.unesco.org/new/en/unesco/events/prizes-and-celebrations/celebrations/international-days/world-teachersday-2015#.VhIlIX04sQ1
http://www.ei-ie.org/en/news/news_details/3734
http://www.un.org/sustainabledevelopment/sustainable-development-goals/