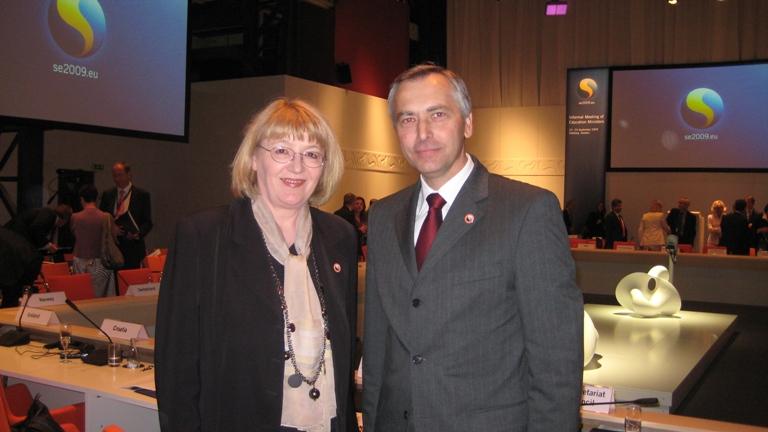 In Göteborg, on 23 - 24 September Informal Meeting for Ministers of Education was held. Croatian Delegation was led by State Secretary dr.sc. Dijana Vican, along with , Ms. Ivana Bošnjak, advisor to the Minister and Ms. Jelena Letica, Assistant Director of Agency for VET.

Swedish Presidency summary
The meeting stated that the motivation, skills and competences of teachers as well as the quality of school leader ship, are key factors in achieving high quality learning outcomes. The efforts of teaching staff should be supported e.g. by induction and continuous professional development. The challenges involved in leading schools as learning communities are similar in all Member States and school leaders could benefit from opportunities to share good practice and professional development across national boundaries. There are considerable advantages to be gained from closer cooperation within the European union.
There was broad agreement to
1. promote and bring forward practical advice for policymakers on the benefits of comprehensive induction programmes for all beginning teachers and introduce arrangements to ensure that every beginning teacher has access to an effective induction (early career support) programme during his or her first period in a paid teaching post,
2. support the establishment of a European network on the continuing professional development of teachers and school leaders with the aim of collaborative learning between teachers as well as undertaking or coordinating research and analysis and disseminating scientific evidence and good practice,
3. collaborate to encourage teachers to take full advantage of existing opportunities within the Lifelong Learning programme and relevant national teacher development programmes for exchanges and placements abroad (mobility),
4. ensure that high quality provision exists to enable all school leaders to develop the skills necessary to facilitate, encourage and inspire learning by both pupils and school staff, including through peer learning and mobility activities,
5. support the creation of a regular European arena for the exchange of research evidence and good policy practice on the professional development of teachers and school leaders,
6. ask the Commission to deepen and extend to all Member States its work within the Open Method of Coordination to facilitate policy cooperation and peer learning on the professional development of teachers and school leaders.